Currently, due to a specification change on the platform side, only live-streaming via RTMP URLs, etc. is possible.
We will inform you of the normal live-streaming method as soon as it is available.
▶︎How to live-streaming at RTMP URLs
Note: To broadcast on [Niconico Live], you are required to have a niconico paid account and a community (group feature) authorized to broadcast. The steps below are valid as of March 2016, Cerevo cannot guarantee future accuracy.
Steps for broadcasting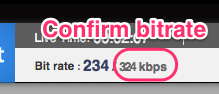 If LiveShell 2 is broadcasting correctly, a [Please watch in NiconicoLive] message will display in the preview window. Due to niconico restrictions the stream cannot be displayed in the Cerevo Dashboard preview window.