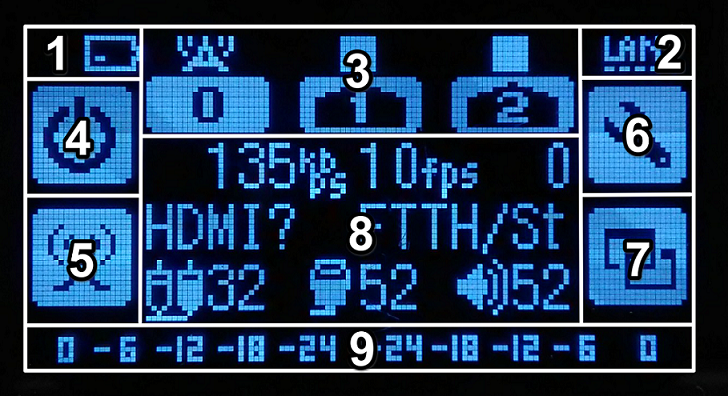 1. Battery

Battery level display. A plug icon appears when an AC adapter is used.

2. Wi-Fi or LAN

Wi-Fi reception status. An Ethernet icon appears when connected via Ethernet.

3. Broadcasting status

While the channel is broadcasting, the radio tower mark appears above that channel. If the channel is not broadcasting, the square mark will appear.

4. Top left button

Offline: Power ON/OFF
Online: Keylock, Offline

5. Bottom left button

Start, pause and stop broadcasting.

6. Top right button

Broadcasting settings.

7. Bottom right button

Switch information displayed in 8.

8. Information

While LiveShell X is online:
(Default) Current bit rate of broadcasted video and sound, current queue value, video image input, current frame rate, streaming quality, stereo AV-in volume, HDMI volume, master volume.
※Streaming quality is shown as "Custom" when that option is selected. When using the preset option, the internet speed streaming mode will be as described below.

| | |
| --- | --- |
| over 2000kbps – 720p | FTTH |
| over 800kbps – 480p | ADSL |
| over 500kbps – 360p | 3GHi |
| over 300kbps – 216p | 3GLo |
| still mode | St |
| moving mode | Mv |

i.e."over 2000kbps" and "still mode" will be shown as "FTTH/St".

When using Ustream – the number of viewers, page URL, channel title. With other services – the service name or type.
Firmware version, device ID
RTSP server URL
While offline:
(Default) s.cerevo.com
Firmware version, device ID
Ethernet MAC address
9. Peak meter (6dB scale)

※when a peak meter is achieved on both ends, there is a 0dB under clipping. The status bar extends, warning users.
If neither bar is displayed, there is a -6dB~0dB under clipping. Below this is as follows: -12dB~-6dB.
When the maximum sound is not clipped, please adjust the bars to extend inside the meter.