LiveShell X should automatically broadcast inputted video/sound after clicking [Start Live].
Please note some streaming services are unable to broadcast to the preview window in Dashboard. Please manually check your live stream to confirm broadcasting.
Please check the following guide if video is not broadcast.
<Point 1>
Wait a few minutes and check if video is played.
A delay from several seconds to a few minutes can occur between the LiveShell X video input, the preview display window in Dashboard and the live video stream.
<Point 2>
Make sure that "Video off" is not checked in Dashboard.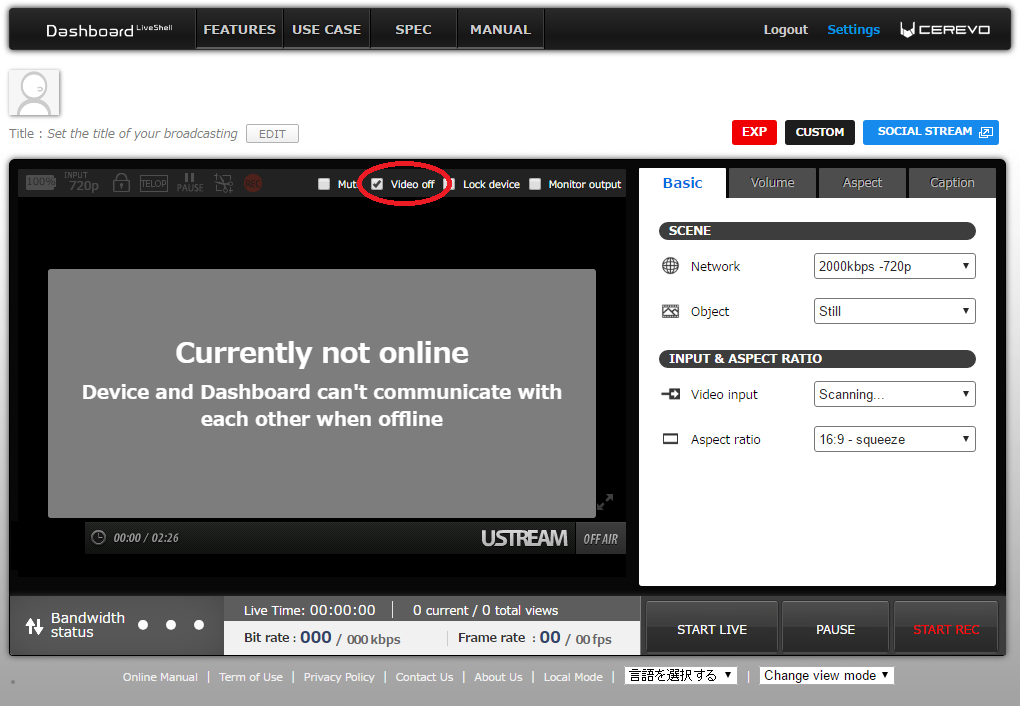 <Point 3>
Make sure that you select the right device ID on Dashboard.
If you select the wrong device ID, you will not be able to preview video on Dashboard.
For more information to check the device ID of your LiveShell X, see this link.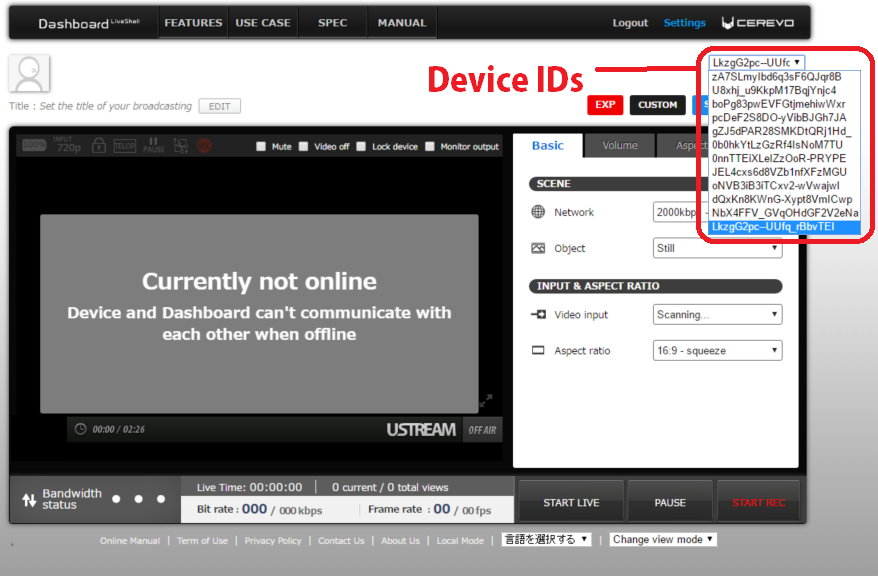 <Point 4>
Make sure that your video input device (e.g. camera, PC, etc.)  and cable are not defective.
<Point 5>
Make sure that your video input device is set to a supported resolution.

LiveShell X supports the below resolutions and frame rates. Any resolutions and frame rates not listed may cause video problems.
[Supported HDMI resolutions and frame rates]
1080p60 (59.94)
1080p50
1080p30(29.97)
1080p25
1080p24(23.976)
1080i60 (59.94)
1080i50
1080i30
1080i25
720p60 (59.94)
720p50
720p/30(29.97)
720p/25
720p/24(23.976)
576p
576i
480p
480i
VGA
<Point 6>
The error message "HDMI ERROR" appears on the device screen or Dashboard.
Your connected device may be outputting an unsupported resolution or framerate, please check the supported resolutions list in Point 5.
<Point 7>
Make sure that any HDMI splitter or converter used is not causing the issue.

Using HDMI splitters and converters may cause video issues.
<Point 8>
Please try to reinsert the input cable and reboot LiveShell X, then check if the problem is resolved.
<Point 9>
Make sure the HDMI device you are connecting is not outputting an HDCP signal.

LiveShell X does not support HDCP (e.g. BluRay Players etc.).
<Point 10>
If possible, try broadcasting to another streaming service and see if the same problem occurs.
If there are no problems when using the other streaming service, the problem may be caused by original streaming service you are using. In that case please contact the support team for the streaming service you are using.
If you cannot solve the problem
Please contact our support team (support-global@cerevo.com) and include the following information.
Video is not shown on Dashboard and broadcasting service.
You have already checked the points above.
If "HDMI?' is shown on the LCD of LiveShell X while LiveShell X is connected to the video input device.
Which broadcasting service you are using (e.g. Ustream, YouTube Live, Twitch, etc.)
When the problem first happened and any other solutions you have tried.