Dashboard is realtime live control web service for LiveShell unit.You can start/stop live streaming, change bitrate of audio or video, adding caption etc.
You need to register account and your unit.See 1-2-1 for more information.
There are preset broadcasting service below
Ustream
NicoNico Live
Other broadcasting service(RTMP streaming server)
RTSP server mode
YouTube Live(Events)
Twitch
Dashboard layout overview
It is a sample screenshot of Ustream service, but almost is the same layout.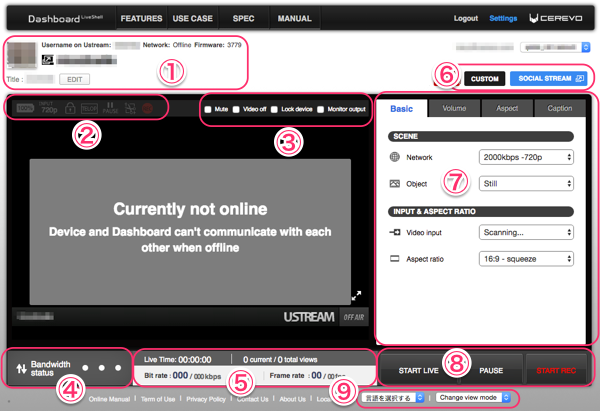 In this page, you will know the feature of operation of Dashboard.If you would like to know other information on Dashboard, see chapter 3-1.
Streaming summary
Unit setup information
Streaming Quality Information
Broadcasting bitrate, viewer status
Unit operation
Mute: Turns off audio while broadcasting.
Video off: Turns the video off while broadcasting.
Lock LiveShell: Locks the control buttons of LiveShell unit.
Monitor out: When using the Audio Video output, connect the breakout cable (sold separately), and select this option to view the Monitor output.
Start and Stop Streaming, Pause, Start and Stop Recording
These buttons control the streaming and Ustream recording functions.


START(STOP) LIVE: Start and stop streaming
PAUSE(RE-START):Pause streaming/restart
START(STOPP REC:Start and stop Ustream recording (recorded data is stored on your Ustream account)
Main Operation
This area allows you to control various stream functions and operate the captions/on screen image feature.
Basic
The basic tab shows the recommended settings for streaming based on your current network connection.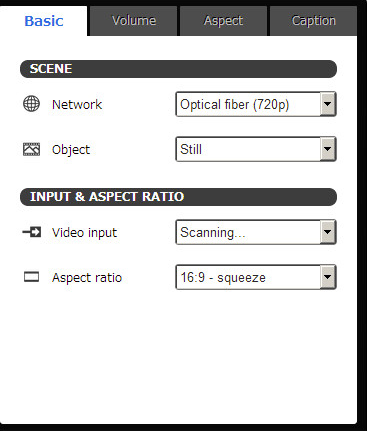 Network – The current preset will be displayed and selected based on the speed of the current network connection. If custom setings are used you will not be able to use a preset until you disable custom mode.
Object – Visual mode, set for still or moving images.
Video input – You can set type of video input (AV-IN/HDMI) or set it auto detect.
Aspect ratio – Current video aspect ratio is shown. Check the aspect tab below for details on the options available.
Volume
Streaming audio volume level can be adjusted here.

Volume Boost – Use this option if you need an extra boost to volume levels. However this feature is not recommended to be used all the time due to the possibility of lower quality audio when enabled.
AV-IN volume – you can control audio volume from AV-IN source.
MIC Volume – you can control audio volume from MIC-IN source.
HDMI Volume – you can control audio volume from HDMI source.
Aspect
In the Aspect tab you can control aspect ratio of streaming.Dashboard can set normal 4:3, 16:9 or your manual ratio like a square(1:1) or others.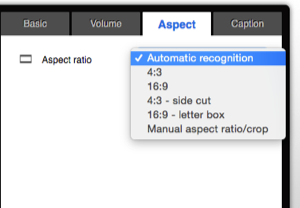 Caption
In the caption tab you can control the settings for overlaying text or images onto the video stream.


See the Caption / pause image page for more information.
Custom settings, [Social stream] settings
Custom settings
You can also adjust each setting manually using the [CUSTOM] button. The available custom settings are below.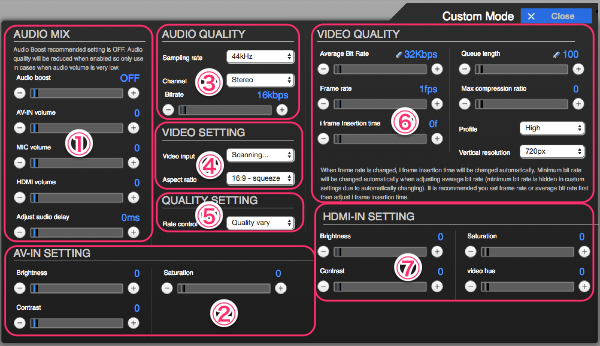 1. AUDIO MIX
Audio boost(OFF-119): boost your original audio volume.this change may affect your streaming noisy.
AV-IN volume(0-9): AV-IN volume control
MIC volume(0-9): MIC-IN volume control
HDMI volume(0-9): HDMI volume control
Adjust audio delay(0-1023): sync between video and audio.
2. AV-IN SETTING
Brightness(0-255): control AV-IN video brightness
Contrast(0-255): control AV-IN video contrast
Saturation(0-255): control AV-IN video Saturation
3. AUDIO QUALITY
Sampling rate(11,22,44kHz): change audio sampling rate
Channel: select streaming audio monaural/stereo
(Audio)Bitrate(16kbps – 255kbps): audio bitrate
4. VIDEO SETTING
Video input: Set input video source AV-IN or HDMI manually
Aspect ratio: Select the aspect ratio of streaming to Auto/4:3/16:9/4:3 side cut /16:9 letter box/manual aspect,crop
5. QUALITY SETTING
Rate control: When the bandwidth of streaming is not enough, which of parameter will reduce automatically – quality(bitrate) / smoothness(frame rate).
6. VIDEO QUALITY
Average Bit Rate(32-10000kbps): Average bitrate of streaming
Frame rate(1-30): frame rate of streaming
i Frame Insertion Time(0-300frame): i-frame insertion interval
Queue Length (Streaming buffer,0-4000): How long LiveShell will store for caching the streaming
Maximum Compression Ratio(0-51): How much LiveShell compress your streaming
(H.264) Profile: Set H.264 profile to Base/Main/High
Vertical Resolution: Set the vertical resolution from 240px/360px/480px/720px
7. HDMI-IN SETTING
Brightness(0-255): control HDMI video brightness
Contrast(0-255): control HDMI video contrast
Saturation(0-255): control HDMI video saturation
video hue(0-255): control HDMI video hue
[Social stream] settings
[Social stream] is only for ustream that share audience comments to social networking service.this button open pop-up window of [Social stream].
Dashboard language
Change the display language on the Dashboard. (Japanese or English)